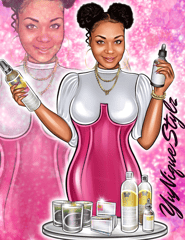 Refund/Shipping Policy
YuNique Stylz doesn't offer refunds or exchanges. However, if you have any issues receiving or about your order please feel free to contact us. We will be more than happy to resolve your concerns.

NO REFUNDS OR EXCHANGES





Due to our products being handmade please allow 2-3 business days for processing of all US orders & 3-5 business days for processing international orders.

Shipping Details

Priority Mail:
3-5 business days for US orders
unless you choose faster shipping methods
6- 10 days from US to Canada & other

Priority Mail Express:
3-5 days from US to Canada & other

Hand Sanitizers are NOT allowed to be shipped out of the country due product being alcohol- based

All orders are shipped out Monday - Saturday by 12p.m. EST through USPS. Invoices are provided with your order as well as in your email

We do ship on holidays
(as long as Post Office is opened)
we will email you with details during these times

For international orders: depending on who you bank with you will be charged a different transaction fee by your banking agency. Please contact them YuNique Stylz is NOT responsible nor do we charge this fee.

Note: Once orders are received by USPS it is out of our hands as far as timely shipping. However, we do provide you with a shipping/tracking number which will be delivered to your email address & phone number. If for any reason you gave the wrong address after order has been shipped out, you WILL NOT be refunded for any items.

We check weekly for shipping restrictions and it will be posted here.

We appreciate your business & Thank You for choosing to shop YuNique Stylz. We look forward to adding your country to our shipping/mailing list.